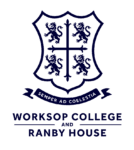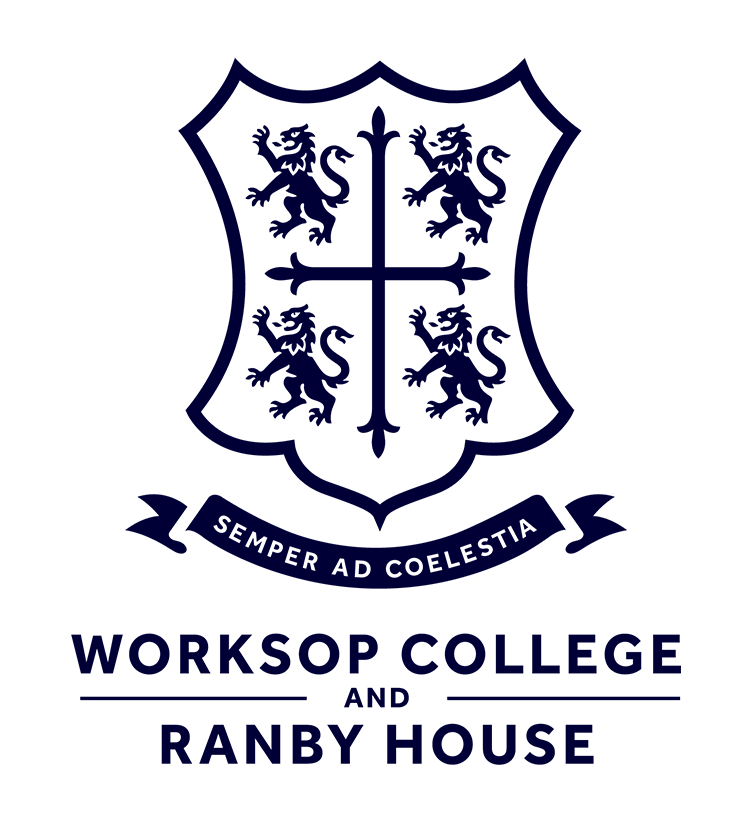 Worksop College Boosts Sports Pitch Operations with the Turf Tank Line Marking Robot
Worksop College is a leading educational institution located in the United Kingdom, offering a wide range of academic and sporting programs to its students.
THE CHALLENGE
Like many schools and universities, maintaining well-marked sports pitches is an important part of ensuring that their athletes can compete at their best. However, manually line marking these large outdoor surfaces can be time-consuming and labor-intensive, presenting a significant challenge for the college's groundskeeping staff.
THE SOLUTION
In order to improve their operations and provide their athletes with top-quality playing fields, Worksop College recently invested in a Turf Tank line marking robot. This cutting-edge technology allows the college to quickly and accurately mark their pitches, saving time and effort while maintaining the high standards that their athletes and coaches demand.
Tackling the labor shortage with a robot
One major challenge facing the wider turf management industry, which impacts Worksop College as well, is a shortage of skilled labor. Over the years it proved difficult for the college to find and retain the staff needed to keep their pitches in top condition. That combined with a vast area of land to maintain, spread over more than 550 acres and a wide range of sports, from rugby and football pitches to cricket pitches, tennis courts and netballs, put a lot of pressure on the grounds department at the college. 
Matthew Binns, the Grounds Foreman at Worksop College, explains how the robot helps overcome these issues:
"We started looking at the Turf Tank at the beginning of this summer. We've lost a bit of staff, and we needed to speed the job up, sort things out and make things run a bit smoother and a bit quicker. And the Turf Tank does all those things for us."

You don't need a lot of training or a lot of skill to do it. Whereas in the past, you'd actually have somebody who was properly trained or would you know, take a lot of time to learn what they were doing. Now, anybody can learn the robot. It is easy enough to control.
Chris Bourne, Estate Manager
Very often the fear arises that automation is replacing the human workers, but Chris Bourne, the Estate Manager for the college shines a bit of light on the topic: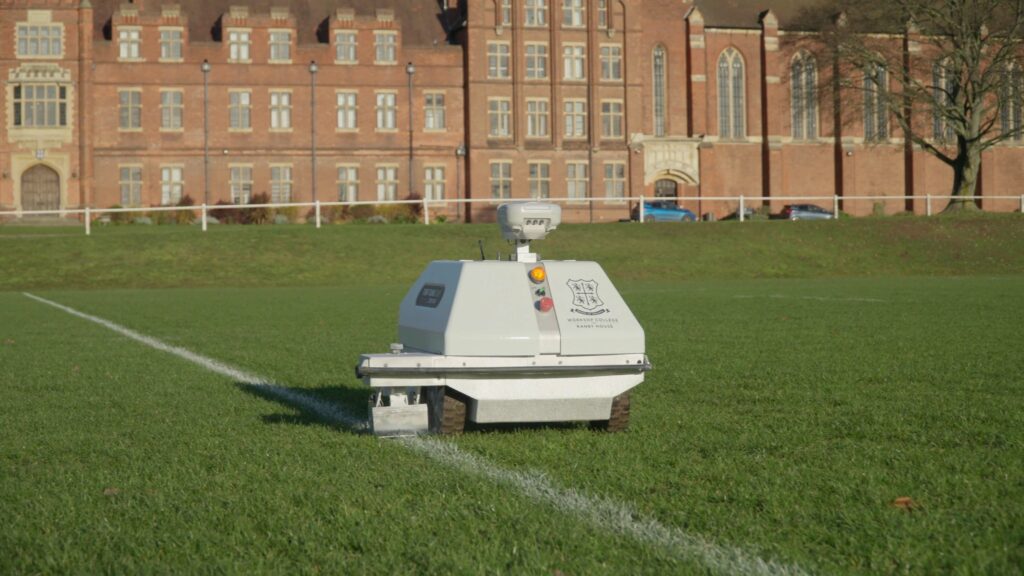 We didn't look to replace people, we brought it in as an extra member of the team. But it doesn't take anybody's job, somebody will still be working within the vicinity of the robot.
Chris Bourne, Estate Manager
"The grounds team gets the playing surfaces to the best of their ability and then they don't have to worry about marking it up, because the robot will mark it up for them."
"Whether we're cutting one pitch and marking the pitch next to it, they work in tandem together. It was never to replace anybody or make somebody redundant, it was always an extra member of the team. And that is the way the robot is seen – as an extra member of the team for grounds team here"
As Chris points out, line marking is just one of the many tasks on a grounds manager's to-do list, but which is also one that is for certain very time-consuming and labor-intensive.
We looked for something that was going to make everyone's job easier. Just to take that little bit of pressure off
Chris Bourne, Estate Manager
"We're going to mark pitches constantly", Matthew continues. "We have matches once or twice a week on most pitches, plus training sessions on the pitches, so they're getting a fair bit of use."'
"Previously, we had one lad who spent most of his time marking in the winter to get all the sports pitches marked out. So he was probably spending four plus days a week marking.  Now a day a day and a half and he's got everything done. And then doing other stuff in between."
| Past | Turf Tank |
| --- | --- |
| 2 hours | 20 minutes |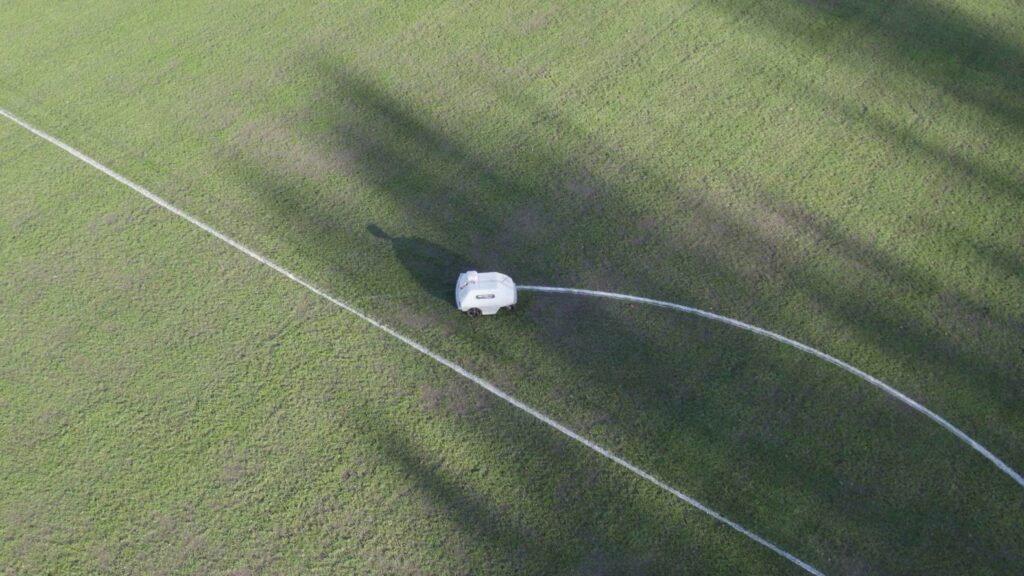 "Now will probably take you 20 to 30 minutes depending on what speed you're running at. Before, if you were starting from scratch it could take a couple of hours, using strings."
The crew at Worksop College is thrilled with the Turf Tank line marking robot's autonomous design. As a fully-automated system, the robot is able to handle the line marking process on its own, with minimum human intervention. This allows the team to focus on other important tasks:
"You've got a sort of a stopwatch on the tablet. So it'll tell you that your pitch is gonna take 30 minutes or 25 minutes depending on what you're doing. And so you know that you can walk out with another task for that time and come back and set him on his next task. You're not going to supervise and babysit him."
More opportunities
In addition to serving the needs of the college's own athletic programs, Worksop College also rents out its sports pitches to outside organizations, which became an important source of revenue. Chris explains that without the Turf Tank line marking robot, it would be difficult for the college to accommodate these external bookings, as the time and effort required to manually mark the pitches would be prohibitive.
"If we just did it with string lines and a roller, you know, it's probably two to three hours. With the robot – it's 20 minutes. It's done. It's always programmed in. So now when they tell us that they're coming up this weekend, we just send the robot down and get him to mark that pitch whenever it is needed. No problem. … We won't get any capital funds unless we can prove that it's going to be sustainable for the environment and probably cheaper to run as well", Peter explains.
Before they could get a Turf Tank, the university had to understand the environmental impact of this new technology. And they were delighted to see the comparison with their traditional line marking methods.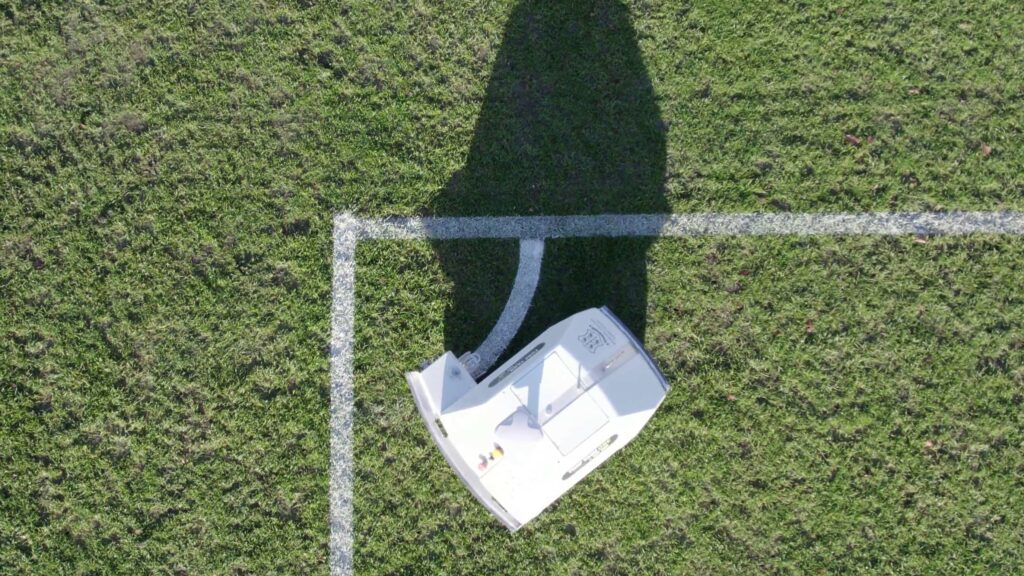 If we get requested on a Monday morning at nine o'clock we'll have a pitch there for Monday morning at 11 o'clock.
Matthew Binns, Grounds Foreman
Apart from making the line marking process hassle-free and allowing the college to fulfill these requests, the robot also has another great advantage over its manual counterpart – the accuracy.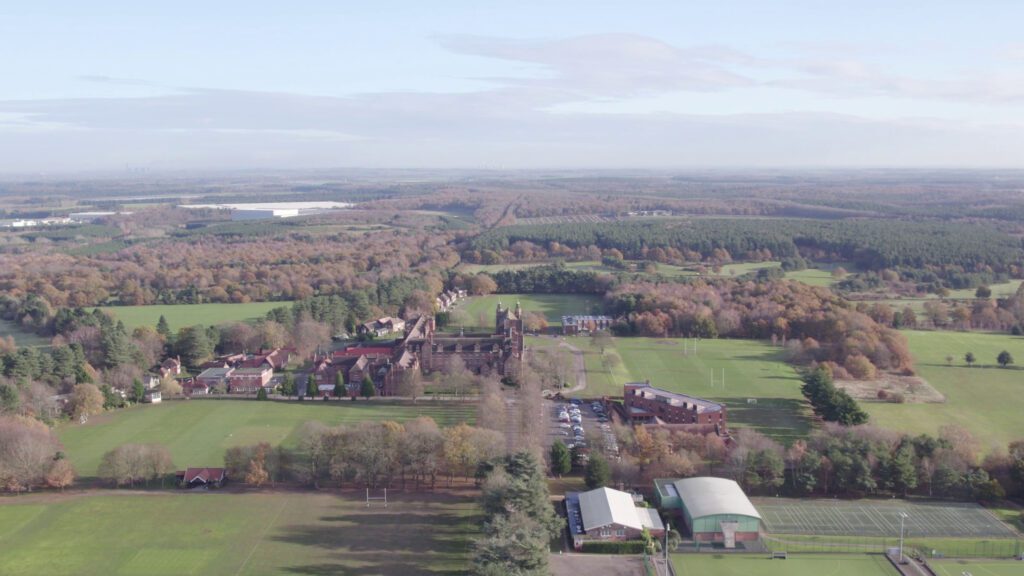 Turf Tank works everything out perfectly for us. Everything's symmetrical, every time. Before, obviously, if you're doing freehand you're never ever going to get it as perfect as you are, with the Turf Tank. It's all GPS. It's all perfect every time.
Matthew Binns, Grounds Foreman
The staff at the college is thrilled that they can provide even more than perfect pitches. 
They can use it to mark letters and special messages in the grass, that can help to create a more professional and impressive appearance for the pitches , making them stand out and providing a memorable experience for the teams and spectators. 
"We also do little messages around the school every now and again, Chris explains. "We did some prize giving, we put that on a piece of grass. We put welcome back messages on the front of the lawns and things like that." 
"Like the guys for Joe Root. We didn't tell them we were doing it. And we just did it. And they spent most of their time photographing their logo and tweeting about it. So it just gives them a little bit more ownership."
By offering its sports pitches in a timely manner, at a high level of quality, and with the added value of special messages in the grass, Worksop College is able to provide an exceptional experience for the teams that rent their facilities. As a result, these teams and organizations are likely to return in the future, and to spread the word about the college's outstanding services to other organizations.
Conclusion
The Turf Tank line marking robot proved to be essential for Worksop College's operations, not only improving the efficiency of their line marking process, but also helping  to build a thriving business that benefits the college, its students, other teams, and the wider community.