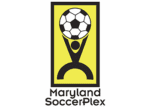 Maryland SoccerPlex uses Turf Tank autonomous line marking robots to increase efficiency
The Maryland SoccerPlex is a world-class complex in Germantown that boasts 24 professionally maintained fields, with 12 of those being Bermuda grass, nine for cool season, and three synthetic turfs. The complex is very popular as it hosts several tournaments throughout the year and attracts a large number of players to its fields. The reason for its success lies in the attention to detail that goes into maintaining the fields.
However, with numerous sporting events happening back-to-back, achieving this level of quality is no easy task, and it was becoming increasingly difficult to do so with the traditional manual methods of line marking. So they began to explore alternatives, and soon discovered the Turf Tank autonomous line marking robot, which completely transformed the way they paint their fields.
$40,000 Savings In Labor In A Season
Maryland SoccerPlex strives for perfection and a high level of preparation for every event, be it a recreational tournament or an MLS NEXT. But achieving that high standard was no easy task when doing it manually.
Manual marking in the past
Painting with strings:
5 people
60 hours a week painting x 30 weeks a year
1800 hours painting
Re-sizing fields every 2 weeks:
2 people 16 hours a week measure, mark, layout x 15 weeks a year
240 hours laying out
2040 hours a year in total.
Painting:
2 people and 2 robots 16 hours a week x 30 weeks
480 hours painting
Re-sizing fields every 2 weeks:
2 people 0.2 hour a week x 15 weeks
3 hours re-sizing
483 hours a year in total.
= 1557 hours saved per year.
Previous to Turf Tank, we would pull strings on every single line every single week. Now with Turf Tank, our preparation is so much easier. We go from having a crew of five people to just having two people painting with two different Turf Tanks. So we're able to be much, much more efficient. And that allows us to do other things during preparation that we weren't able to do before.
Jerad Minnick, Director of the Sports Turf Institute
So they decided to go a different route and try the Turf Tank line marking robot instead.
However, before being able to approve it, Matt Liber, Executive Director of the SoccerPlex, was interested in the costs and asked himself if the robot would be a good investment.
When the idea of the Turf Tank was first proposed to me, one of my questions is always cost. What's it going to cost us? What's the benefit? And when we sat down and looked at the numbers, it just made perfect sense. I mean, we talked about savings from labor, we talked about savings from paint.
Matt Liber, Executive Director of the SoccerPlex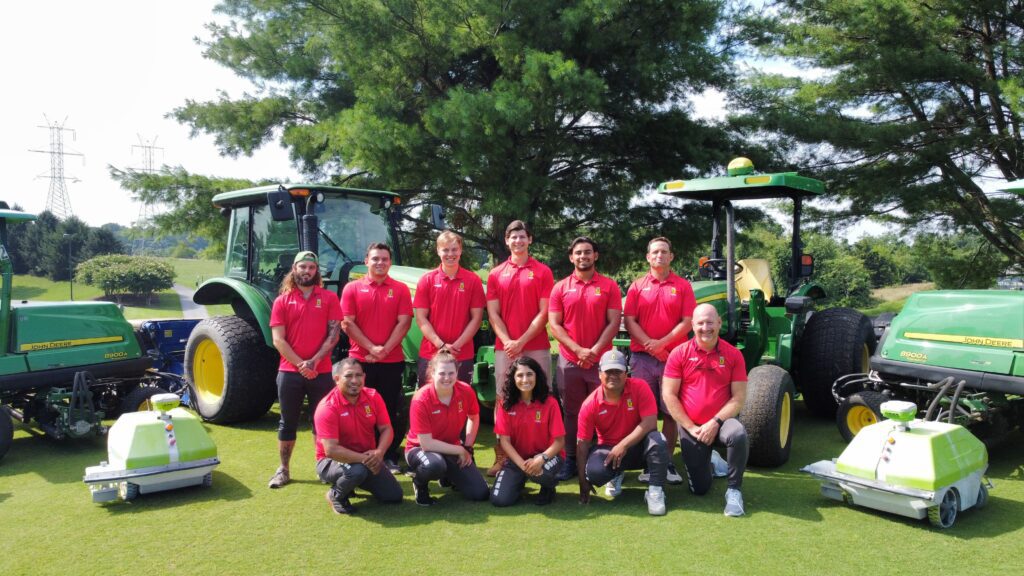 Overall, we save about 1,600 to 1,700 hours a year just in preparation.
Jerad Minnick, Director of the Sports Turf Institute
"It's paid off. It's paid dividends, there's no question about that. We can equate the 1,600+ hours a year that we save the Turf Tank to be saving us somewhere in the range of 35 to $40,000 in labor in a single season. Now, we also don't like to look at it as just savings because it's not that we're just saving money, we're able to reallocate that labor and put it on other detailed things that we want to get done as well."
With such a big area to maintain, it became evident that only one robot would not be sufficient, so soon, Wall-E got a partner, Eve, and the two robots now help the staff cover the entire area of maintenance.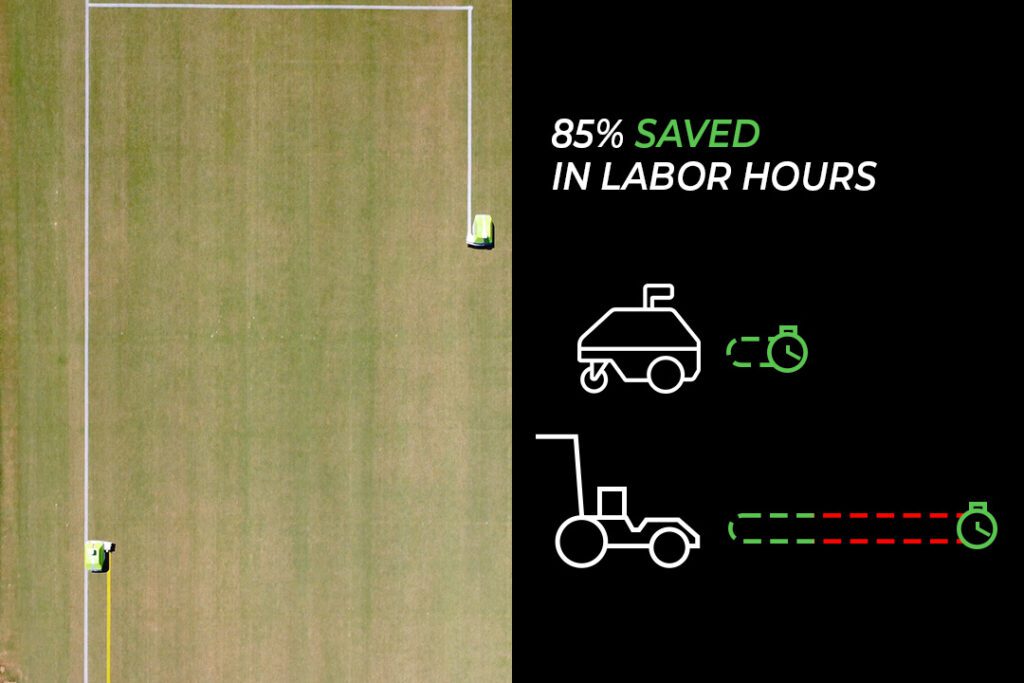 "Throughout the year, we would average 53.5 labor hours per week for layout and painting of our fields around the park. On our Turf Tank, we average 16 hours a week, with one machine. We were able to cut it down to eight hours with two machines during our lacrosse tournament season. Significant savings!"
Doing More With Less In Times Of Short Staff
The cut in costs is definitely a great benefit in having autonomous line marking robots on their fields. However, Jerad points out that using the robot is not only about saving money.
As technology advances, there are sometimes fears that robots will take away jobs from hardworking people. However, as Jerad mentions, sometimes robots are necessary to fill a need that would otherwise go unmet.
I hear sometimes 'Will this replace people's jobs?'. The people don't exist. Technology is an important part of making us better.
Jerad Minnick, Director of the Sports Turf Institute
This is the case with the Turf Tank autonomous line-marking robot at Maryland SoccerPlex. Due to a nationwide shortage of turf management professionals, it is difficult to find enough qualified people to keep up with the demand for services. As a result, the Turf Tank helps to fill this gap and ensures that the SoccerPlex is able to keep up with the schedule of their sporting events.
"As we become more efficient, we were able to do more with less, even during times of short staff."
The Turf Tank robot not only helps to save time and money, but it also helps to increases the overall quality of the facilities at Maryland SoccerPlex.
"We were pulling strings on every single line. Plus the headache that strings create… But also, there's no guarantee in those lines being straight every single time. It's just so dramatically different with using the robot versus using just people. Because there's still room for error. On the robot, there's no error at all."
With an easier process for line marking, the staff is now able to shift the fields more easily, too, which in the end will have a great impact on the condition of the grass.
"Part of our Sports Turf Institute, one of the biggest pieces is technology. Turf Tank fits right into that. To be able to talk about GPS, robotics, pumps, base stations, all the different things that we're working with when it comes to Turf Tank. Those weren't things that we were very versed in before, but now it's part of our Sports Turf Institute."
The Maryland SoccerPlex has always been known as a leading edge facility where we're trying new methods, new materials, new products. So when we had the opportunity to try out a robot that paints lines, we said yeah, this fits in our mission to be the best facility out there, we have to have the best technology.
Jerad Minnick, Director of the Sports Turf Institute
Conclusion
In conclusion, Wall-E and Eve, the Turf Tank robots, have been a great investment for the Maryland SoccerPlex. It helped the staff be more efficient in maintaining their fields, keep up with their sporting schedule and increase the quality of their facilities. The robots have been so successful that the SoccerPlex is now considering purchasing a third Turf Tank robot to help with their line-marking needs.