Engineered for Excellence.
Automate your line marking process and paint your fields easier and faster than ever. Save hundreds of hours every year to focus more on tasks that usually get neglected and improve the quality of your facility.
Improved sprayer Module with easy removal to allow easy and ergonomic nozzle change.
Room for a 5,5 Gallon Jug.
Easy and Ergonomic access to battery & Paint jug.
New wheel design for superior grip and traction.
Easy accessible compartment for fast battery swap.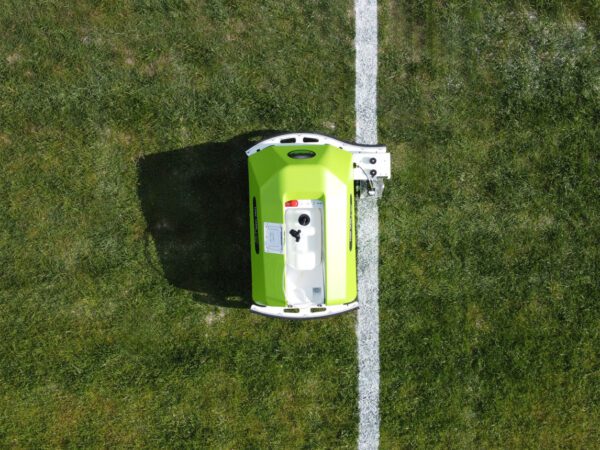 EFFICIENCY MEETS

PRECISION
Revolutionize line marking and save countless hours each year. Simply set up the robot and let it take care of the painting for you. As the robot works its magic, you will not only get perfect lines, you will also get the time to refocus your attention on other essential tasks around your site.
Insert your paint, choose your field layout and press go!
Improve efficiency & free up your time for other tasks
Improve the overall quality of your facilities
Sudden changes in your schedule? No problem, with Turf Tank you have the flexibility to setup fields in just minutes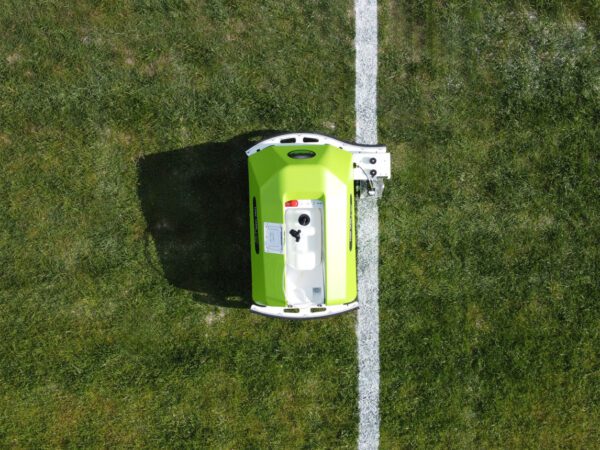 Unleash the Turf Tank Two and seize control of the entire field marking process using just a tablet. The intuitive visual layout editor offers the possibility to effortlessly add new lines, dash lines and giving you 100% flexibility when laying out your fields. Assistance is always within reach, as the in-app guides and help center are conveniently accessible right at your fingertips.
Drag & Drop editor – for easy placement of your field layouts
Control every single line in your layout – your fields, your rules
Paint estimate – see how much paint your layouts requires.
Offline mode – makes it easy to use your Turf Tank even in areas with poor internet connection.