Line marking solutions for
Professional stadiums
For a professional venue, one crucial aspect is the quality of the fields.
But line marking is a meticulous task that requires a lot of time, which can be better spent on improving the quality of the fields in other areas.
Turf Tank ONE is the line marking solution that can give you more time to focus on other tasks, while your fields have perfectly straight lines.

100% acccuracy
Draw perfectly straight lines and give your fields a professional look

Save time
Set up the robot in 10 minutes. Then focus on other activities that can improve the quality of your fields
Maximum precision
Create crisp lines everytime

Easy overmarking
The robot remembers the initial locations, so you can easily overmark as often as needed to maintain the quality of those fields
How it works
1. Set up the base station
You don't need a team of volunteers to tighten strings and do manual measurements. The base station uses advanced GPS technology which maps, and measures the fields to ensure a centimeter-level accuracy.
2. Choose Your Layout
Use the intuitive tab to select your field type and input the desired size of your pitch. Only one person is needed to do the app settings, which takes only 10 minutes. Then focus on other activities that can improve the quality of your fields.
3. START
The robot will drive straight to the starting point and begin painting. Due to its autonomous design, you can save time by completing other tasks while the robot paints the fields.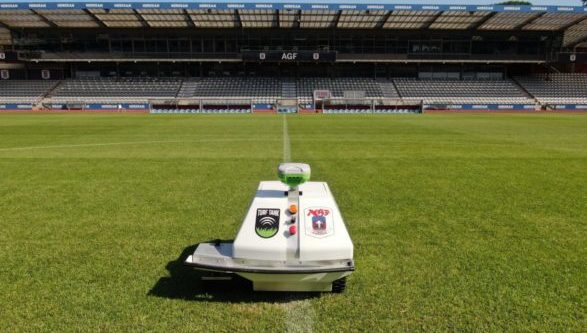 Branding opportunities
Give your team members more unity and boost their team spirit with a new mascot: your one-of-a-kind line marking robot, wrapped in your team's colors.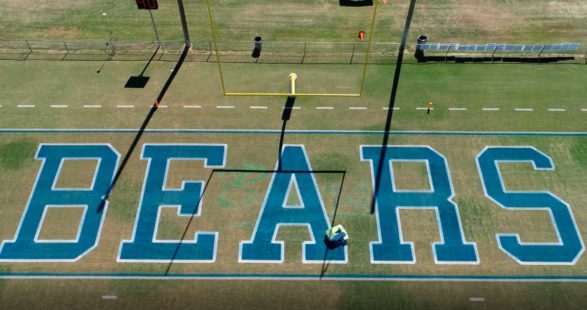 Field art
Spice up your fields with robot-created logos that help your fans identify with your team and offer them the ultimate sports experience.

With limited time, increasing workloads and the growing number of sports fields at Gillette Stadium, Turf Tank Robot has built measurable efficiencies into our overall turf management operations
Kraft Sports and Entertainment